A cloud-based platform that uses artificial intelligence, allowing organizations to treat a large amount of data and monitor their fleets, in real time, anywhere, with any device.
ONE TOOL FOR MULTITASKING
Have you ever felt overwhelmed with the management of your business?
Reports, decisions to make, time running out, a team to lead, costs… With BOEM you can do all of this making it look easy.


Overview of your business through the faster presentation of meaningful data;

Implementation of KPI's, fully customisable;

Collaboration improvement between different departments;

Automatic and customised reports, sent to your email or to your team members;

Video surveillance of your installations 24/7;

Delivering tasks to the members of your crew.
5 WAYS BOEM CAN BENEFITS YOUR BUSINESS
Improve the overall performance of the business
One tool to monitor and analyse the shipping company activity.
Avoid risks and losses.
The ability to control and predict processes.
Information to the right person at the right time.
Avoid equipment downtime and unnecessary cost.
No more loss of information.
Everyone (onshore and onboard) has access to the same relevant and treated data. Flexible and expandable to each business needs.
Accordingly to the business' changes.
BOEM shows ship data through a dynamic and customisable tree and branch arrangement, where the user goes directly to the item of interest. The user can inspect time and related data of any variable as a function of any other parameters, having available alarms, machinery/plant photos, documents and certificates. It also allows real-time remote surveillance of ship spaces, including dark ones, by using special cameras.
BOEM is a system that can connect to any monitoring system present on any installation. The system makes the readings of the physical quantities of equipment, via a control unit, creating a database with data collected.
THE MODULES
Acquired as a full package or accordingly to the user needs
TECHNICAL MANAGEMENT
BOEM collects and processes ship operational raw data making it relevant for the users by applying filters and mathematical manipulation. By defining KPIs (key performance indicators) and using treated data, reliable performance monitoring is achieved. Condition Monitoring is a feature of this module, using the data from installed machinery key sensors.
BOEM learns and gathers operational information about each machinery, making the prediction accurate and reliable.
MAINTENANCE MANAGEMENT
Ship crew may manage the ship maintenance, including the tasks scheduled, technical instructions, required manpower, tools, time, spare parts, budgets and reports.
This tool is connected in real time with the shore-based staff, and the procurement of spare parts required, in case they don't exist on board, may then be sped up, originating an outstanding efficiency in ship maintenance.
VOYAGE OPTIMISATION
This tool calculates the voyage profit, the optimised commercial speed and presents optimised routes, allowing comparison with voyage commercial data (freight rate, ETS-ETA, fuel consumption and respective prices, port taxes, insurances, loading and unloading charges, weather forecasts, and others). It is possible to compare different commercial results for the same voyage. The module calculates the required ship corrections from BOEM database.
REPORTS & DOCUMENTS
This module is designed to log the ship statutory and classification certificates, keeping it updated using alarms based on the validity dates. This tool includes ship technical library, legislations, sea trials, VEEO reports (if installed onboard) and other relevant information. The user can also create customised reports based on graphics displayed in performance monitoring and prediction tool.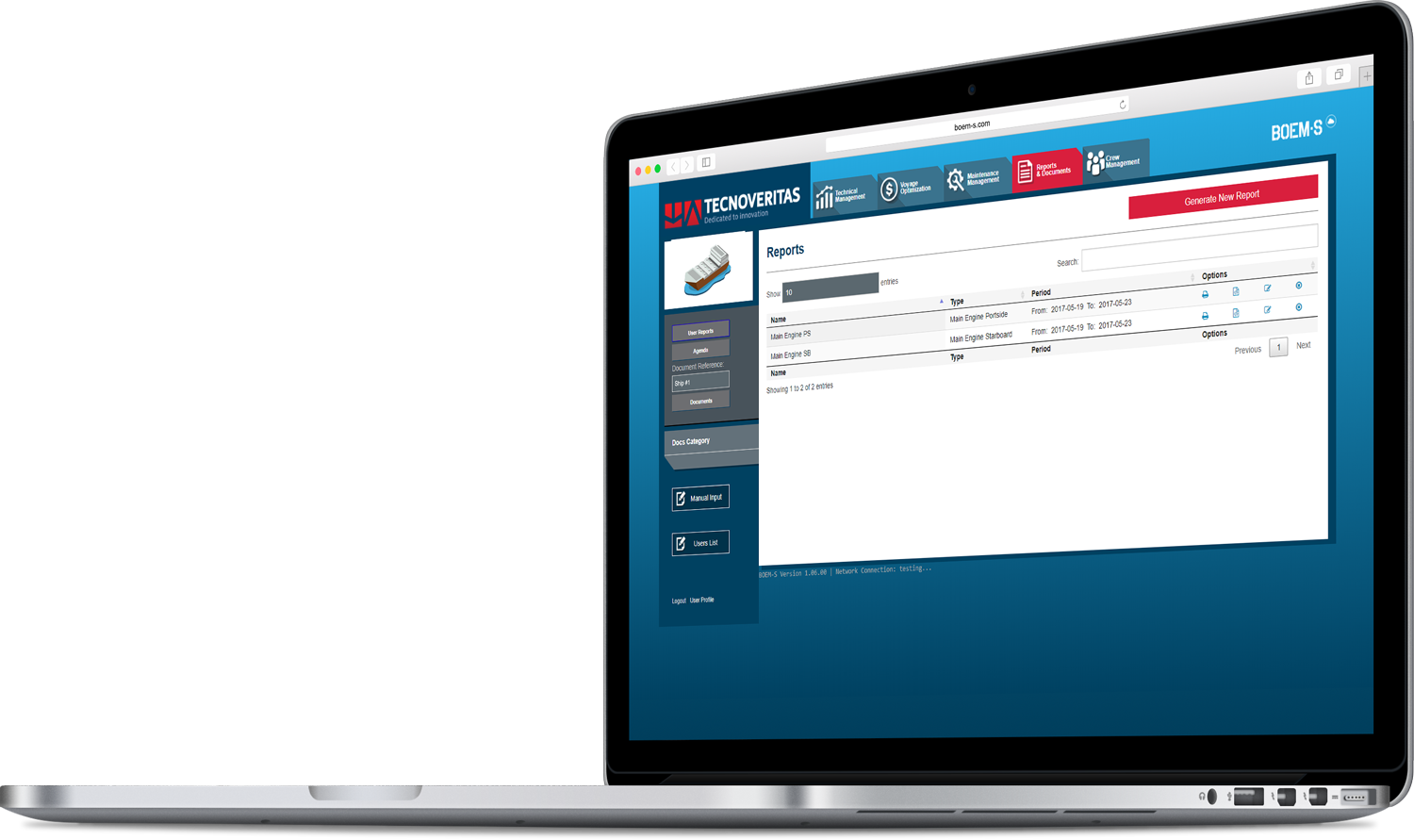 CREW MANAGEMENT
Due to the difficulty of keeping the documentation of each crew member available and updated, BOEM has a database where all of this information, regarding the human resources, is organised and accessible on a click.
This module also allows the allocation of daily tasks for each crew member.
If you want to know more about BOEM platform, click down below:
If you want to see the Recommendation Letters, please contact us: